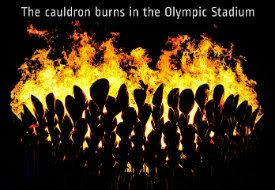 What a fantastic opening ceremony for the London 2012 Paralympics. These athletes have overcome what would sometimes seem to be insurmountable circumstances to be there, it is only possible to admire them, I do hope the games get the coverage they deserve.




As Professor Stephen Hawking said:
'The Paralympic Games is about transforming our perception of the world.
'We are all different. There is no such thing as a standard or run-of-the-mill human being but we share the same human spirit.
'What is important is that we have the ability to create.
'This creativity can take many forms, from physical achievement to theoretical physics.
'However difficult life may seem, there is always something you can do and succeed at.'

Now the Paralympics are back where the concept originated, in 1948, how great it would be if these games could be the best ever and change the whole image. Of what it is possible to achieve regardless of circumstances, and of the Paralympics......and hopefully inspire more support and understanding.

What do you think? Did anyone else see the opening ceremony, and will you be watching any of the events? In Germany it is being well covered by TV and everything else, but apparently not in every country.